Recommended Gear for Crappie Fishing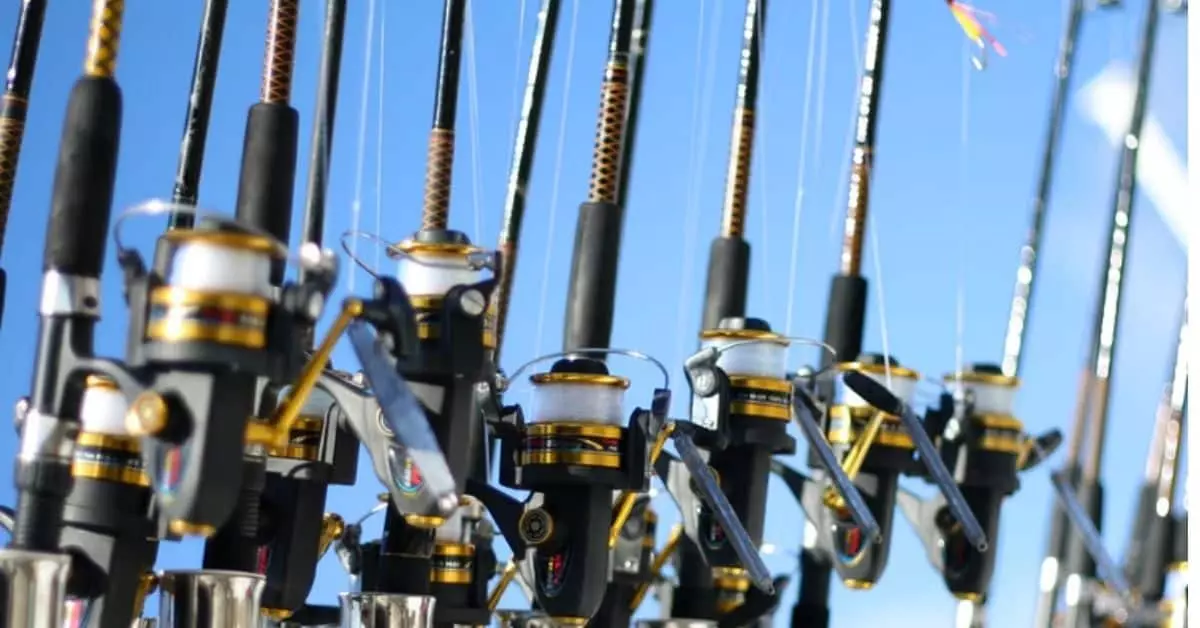 Fishing like any other sport has certain gear that can really improve your skills and chance of a successful "win" catch.
Just like there are multiple "ball" sports, baseball, basketball, football, volleyball – there are many different species of fish. Each of these requires gear tailored to their particular habits, characteristics and habitats. 
With that in mind, today we are going to focus on the gear needed for crappie fishing and some of our top picks in each category.
So let's dive in and get started.
Rods
Rods come in many variations. You can find rods of nearly any length from about 2 foot up to 16 feet fairly easily. They also come in various degrees of flexibility and overall strengths. When selecting a target fish it is important that your rod possesses the ideal characteristics for that particular fish.
In the case of crappie fishing, you tend to do better with a longer rod around the 8 to 12 foot range with a slow "Action". A slower action allows the rod to flex more and is ideal as it reduces the force of the line when you set the hook.
#1 Pick for a Crappie Rod
My overall suggested pick for a crappie rod is the B'n'M Same Heaton Super Sensitive.
Featuring a IM6 Graphite construction each of these rods is ultra sensitive.  
When dealing with crappie it is important that you feel their bites as they often barely tap the lines.
In addition to this the slow action will result in more hook ups as you are not as likely to rip the hook from their mouths.
Coming in at 10 foot, this rod is perfect for using Jigs along banks and spawning Areas.
The rod guides are coated with an aluminum oxide which aids in providing a smooth line flow and ensuring dependable fishing trip after trip.
Coming from a name you can trust, these rods can be found at Academy Sports, Midway USA, BassPro and Amazon.com
Best Crappie Rod On a Budget
Sometimes there is a budget and you have to stick to it, for that reason I have selected the South Bend Crappie Stalker.
The south Bend Crappie Stalker may be a bit different than you are use to when you think of rods and reels.
This falls into the category of what I call a Bream Buster and remind me of a modern day cane pole. Coming in lengths ranging from 8 foot to 13+ feet depending on the model.
The crappie stalker is an excellent budget option made from a composite graphite material. This yields a decent amount of strength to the rod while maintaining its flexibility, light weight and reach.
One of the biggest advantages of this rod is the ease of use, my kids call it the magic pole as they always fought over the Zebco rods and reels that we owned while I always grabbed my trusty buster and without fail I usually caught not only the first fish, but often the most.
These poles make an awesome beginners pole as all you need to do is bait and drop the line into the water, no reels to fuss with. They work great from the shore or a dock and can be used to catch even catfish assuming the location is suitable.
They are also collapsible reducing down to about three feet in size, this small size coupled with a small box of jigs and stored in your vehicle, means you will always be ready for that opportune moment to hit the water, whether its a planned trip all day, or simply a stop by after work.
Again while the links here are for amazon, the South Bend Crappie Stalker is available from many outdoor stores including Calcutta Outdoors, BassPro, Walmart and Amazon.
---
Reels
Reels are a huge area of contestation for many anglers. Coming in multiple styles with the most common being fly, bait caster, spinner and spin casters. Each of these have advantages and disadvantages and it is ultimately up to the angler as to which they prefer.
However I am going to list my two favorites for crappie fishing here with a brief reasoning as to why.
#1 Pick for a Crappie Reel
When I was a kid, I hated spinning reels always preferring to stick to the spin casters. They did not tangle up as often and were easy to use. However, as I got older, I began to appreciate the use of a good spinning reel. So this brings me to probably one of my favorite reels for crappie, and many other species as well.
Dependable and coming in several sizes my pick here is the Mitchell 300 Series.
The Mitchel 300 features three sizes, a 300,308 and a 310.
The 300 is the larger of the group and can easily handle 12 lb. test line, featuring a drag of 14 lbs.
The 310 is the smallest version and tends to handle around a 4 to 6 lb. test line with only a 6.4 lb. drag.
Either of these reels will work for crappie, with most coming in at around 1 lb. in weight. The Mitchell Reels are dependable with 8 ball bearings ensuring smooth operation.
This is yet another item that is found at a wide variety of locations, specifically Field and Stream, Dicks Sporting, Bass Pro, Walmart and of course Amazon.
Best Crappie Reel on a Budget/For Kids
When it comes to a reel for kids or on a budget I find the spin casters to be ideal. They are super easy to use, and a quality reel rarely tangles up from an improper cast. In this category I suggest the Zebco 404 Spincast.
The Zebco 404 is a mainstay from the childhood of many anglers. Growing up you either had a 202,404 or a Zebco 33.
The easy push button spin cast design is perfect for beginners and rarely if at all tangles on a cast.
The Zebco 404 still stands up to the test of time and features all metal gears to ensure years of use. One thing to mention, is I have heard of people getting some that would not cast. A few drops of machine oil or graphite grease on the gears quickly fixes this.
Zebco, are the inventors of the spin cast reel dating back to 1949. The first Zebco 404 design was released in 1963 This means that Zebco has had nearly 60 years to refine and improve the design.
While the 404 is not the top of the line and most spinning reels will out perform it, the 404 is an excellent budget option that is easy for new anglers to use. Again, widely available at nearly any location that sells fishing equipment you can find the Zebco 404 at Dicks Sporting Goods, Bass Pro, Walmart and yes, Amazon.
---
Tackle Boxes
Tackle boxes, where do you even start. As different as the clothes you wear, each one is unique and tailored to the individual fisherman.
I prefer a set up that allows me to isolate certain types of fishing from the others so that if I am crappie fishing I can find the right tackle without having to go through the entire box. I also like to have a small "on the go kit" that I keep in my truck along with a bream buster.
I am going to list the two I use here, ultimately though, you will have to pick what suits you best.
My Main Tackle Box – Compartmentalized
Preferring to set up my tackle before I head to the lake I use the Plano 3700 with the Plano Rack System.
Plenty of room for storing all of your tackle, the Plano 3700 features a large bulk storage area as well as 4 removable racks which can be divided into up to 20 individual compartments.
Unlike a traditional tacklebox that has shelves, these racks are self contained and can function as individual totes. This allows you to select only a specific set of gear and leave the rest behind.
For my use, I select rods specific to the type of fishing I plan on doing that day and then take the tackle tray consistent with that. If I need any of the items I normally carry in bulk storage such as lines then I handle that while still at home. It is rare that I ever need to respool a line while at the lake. (Read Never)
Plano is another name well known in the fishing industry and you can pick up their tackle boxes at Bass Pro, Dicks Sporting, Walmart and Amazon.
Tackle on a Budget
While it leaves some items to be desired, you can often pick up a simple kit that includes most items you will need in a compact package. These make great starter kits, or that kit you store in your vehicle for the opportune fishing adventure.
While I put my own kit together a ready to use option if you like to jig fish is the Crappie Magnet Best of the Best.
This kit contains, multiple weighted jig heads, several colors to provide options for the water clarity and slip floats allowing you to target specific depths.
While I prefer to have some normal hooks for minnows, it is not likely that you will have some minnows stuck under your back seat. So this kit is perfect for those opportune fishing trips when your driving past a lake and just have to wet a hook.
Add in a mini spinner bait or two and you have a perfect kit for on the go. If you want to set up for minnow use, include some size 2 hooks.
Available at Amazon, Cabela's, Bass Pro and in similar versions at Academy Sports you should have no problem locating your own kit.
---
Terminal Tackle
In terminal tackle I am including basically everything that attaches to the reel/rod from the line to the hook. Crappie have several methods commonly used to target them and we will briefly discuss some of that here, though you will find far more information in our blog articles.
Lines
In regards to fishing line, I primarily use a braided hi-vis line by Reaction Tackle since I do most of my fishing along the banks of the Etowah River and frequently deal with downed trees and other brush snagging my hooks. The braided line minimizes breakage in these conditions.
For a monofilament option I use Kastking, though that's mainly because it was a good buy on Amazon. With that being said, it has not let me down and the two spools I bought are still in good shape after two or three years I forget.
Floats
In regards to bobbers or floats, I prefer bobbers as they tend to be easier to adjust or remove for me. However, they are slightly more expensive than Styrofoam floats.
I do have to say one thing for a Styrofoam float though, there have been several occasions where a bobber gets cracked and will not float correctly, Styrofoam always floats.
Hooks & Weights
In regards to hooks and weights, if I am jig fishing then I use weighted jig heads the rest of the time I use Eagle Claw hooks tempered to bend instead of breaking.
Artificial Lures
While live bait, and definitely minnows are the ideal choice for crappie, Artificial Lures provide a simplistic ease to fish when ever the opportunity presents itself.
With that in mind here are some of the most common lures used for crappie.
Jigs
Jigs normally involve a weighted and colored jog head paired with a tail of various colors. These colors often perform better or worse depending on the clarity of the water and even time of the year, this is why it is beneficial to have an assortment of jig colors available to you.
Spinners
Spinner baits are another popular option for crappie, however, I have not used them myself, friends have recommended that they be silver or bronze depending on the color of the water and that they can contain various colored heads as well.
Crankbaits
Crankbaits, are similar to spinner baits in that they are actively fished, they have an added advantage of somewhat of a depth control depending on how you fish them, I have found they tend to work well in summer heat when you are attempting to determine the depth the crappie are holding at.
Select a shiny bait resembling a minnow that is easily seen in the current water conditions.
Other Lure Considerations
Poppers, and larger rubber worms are not often effective with Crappie, though given the right conditions they cant be ruled out completely.
One additional consideration is the use of a liquid crappie attractant or "scent" that is used to coat the lure with a scent intended to attract more bites.
Additional Considerations
Obviously, this is not a end all be all of the gear available for crappie, however, it is a round up of most of the equipment that I use and each item listed here can be counted on to provide an excellent chance of landing several crappie on your next trip.
Some other items you might consider if you are shore fishing are a backpack tackle box, a tackle bucket and an excellent cooler if you plan to keep and eat your crappie.
Bucket – Chair – Tackle Holder
While definitely not needed, a tackle bucket provides not only a place to keep your tackle, but a seat, rod holder, and even a place to keep your fish or minnows all in one container.
These combined uses make the walk down to the waters edge far more convenient than trying to carry a bucket, chair, tackle box, rod and possibly drinks all at once.
---
Tackle Backpack
A tackle backpack is another option that you don't have to have, but that could make your day depending on your fishing preferences.
Providing an easy pack to carry your tackle box, collapsing poles and still providing with plenty of storage pockets for snacks, drinks, a cell phone battery charger and more you can imagine how convenient this would be on a long hike through the woods.
---
Cooler
You have probably read or are aware that the best way to keep crappie tasting fresh is to get them on Ice as soon as possible, this is why a decent cooler is an almost critical piece of gear.
When selecting a cooler, you will most likely want one that rolls, this is true whether you will be fishing from a boat, dock or the shore as in any case, ice is heavy.
When picking out a cooler make sure to consider the surface you will be moving the cooler on, there is nothing worse than trying to drag a cooler across sand or dirt that has wheels far to small. Select one such as this Trailmate by Igloo which comes with 10 inch wheels more than capable of handling the terrain you throw at it.